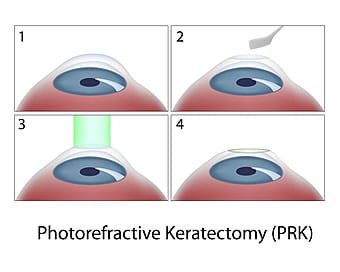 Like LASIK, PRK vision correction is intended to correct your vision and reduce your dependency on glasses or contact lenses. PRK has been performed longer than LASIK. PRK gained FDA approval in the United States for correction of nearsightedness in 1995 and for farsightedness in 1998.
In this procedure, Dr. Frantz uses an instrument to brush away epithelial cells, instead of creating the epithelial flap used in LASIK. After surgery, the surface will heal on its own. He then uses an excimer laser to reshape the underlying corneal tissue. Anesthetic drops are used to reduce pain. Antibiotic and anti-inflammatory drops are applied to the eye and the eye is covered with a bandage contact lens, which is removed 3 – 5 days later after the epithelium has had a chance to grow back.
PRK vs. LASIK
Excellent alternative when LASIK is not an option (i.e. thin corneas).
No complications of stromal flap possible.
Faster vision rehabilitation with LASIK.
Long-term outcome similar to LASIK.
PRK patients have more discomfort than LASIK patients in first 24-48 hours.
PRK requires more healing time than LASIK.
Surgery is performed one eye at a time for PRK. Usually, both eyes are done at the same time with LASIK.
Visual results of PRK and LASIK six months after surgery are comparable.
You can't drive for one week after PRK surgery. Most people can drive the next day after LASIK.
PRK and LASIK are both considered elective procedures and therefore costs associated with surgery are typically not covered by health insurance. Both procedures can be paid for through your health savings account, flexible spending account, or financed through Care Credit.
If you are interested in scheduling your complimentary consultation here at Frantz EyeCare call 239.791.2020 or click here.