Maxwell A. Burch
In March of this year, the Food and Drug Administration approved the newest advancement in refractive surgery. STAAR Surgical's new lens technology, the EVO Visian Implantable Collamer Lens, is now available to patients and is designed to free individuals from the hassle of glasses and contacts. The lens is composed of biocompatible materials, which means that it is adaptable with living tissue. This advancement provides surgical specialists the opportunity to offer refractive surgery to a group of patients who, until now, had very limited options to become spectacle-free.
The EVO ICL corrects two types of refractive errors in patients: nearsightedness and astigmatism. The lens is implanted into the eye to improve blurry or impaired vision caused by refractive errors. It can even be combined with LASIK for extreme prescriptions. However, EVO does not currently eliminate the need for reading glasses, so patients will eventually need them at some point.
Unlike other laser vision correction procedures, the EVO Visian ICL does not require any removal or significant alterations of the eye tissue. This reduces the potential for scar tissue development and allows for several distinct advantages:
Improved night vision
Fewer incidents of dry eye syndrome
UV protection
Clear, crisp vision
Reversible
The new EVO Visian ICL is also less invasive and safer than other ICL's that require an iridotomy (laser procedure involving the iris) before the procedure in order to reduce potential elevated eye pressure issues. The improved technology is designed to reduce the incidence of elevated eye pressures and eliminates the need for additional laser procedures, a pre-operative step that some patients might consider a hassle.
The most important part of any refractive surgery is selecting the appropriate patient. The best candidate is someone between the ages of 21 and 45 who has had a stable eye prescription and for at least one year. The EVO Visian ICL can treat refractive errors from -3.00 to -20.0D and up to 4.00D of astigmatism. During the screening process, your eye doctor, along with their team of refractive specialists, will take thorough measurements of your eyes as well as examine your eyes under a microscope called a slit-lamp in order to determine if you are the perfect candidate for the EVO ICL.
At our accredited ambulatory surgery center, we are able to perform this groundbreaking procedure on both eyes the same day. The average time needed to free you from glasses and contacts is 30-40 minutes. Your comfort and safety are our top priority. Anesthetic eye drops, along with IV sedation, allows us to provide a truly pain-free experience. During the procedure, the EVO Visian ICL is placed effortlessly into th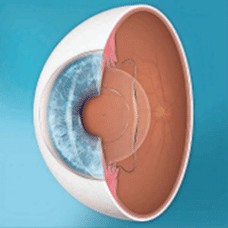 e eye, where it sits between your natural lens and the iris. Once the lens is in place, the procedure is complete.
Most patients will not notice a significant improvement in their vision directly after the procedure, with the final visual improvement occurring 1-2 days after the procedure. The eyes will need to heal completely before the benefits of EVO will be fully achieved. To facilitate this, your surgeon will provide a list of recovery instructions to follow. It is important to adhere to the medicine regiment prescribed by your physician so as to ensure that your eyes optimally head.
You could be one visit away form a life-changing procedure, to learn more and find out if you are a candidate, visit BetterVision.net.
Maxwell A. Burch, MD, Cornea, Refractive and Cataract Specialists, Frantz EyeCare