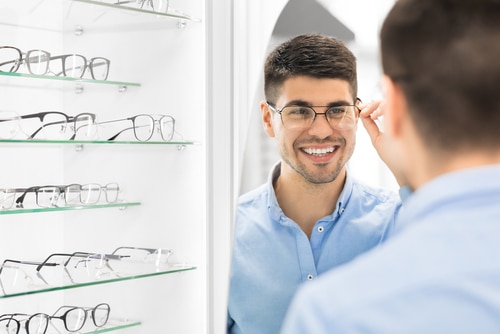 Choosing new glasses can be overwhelming with the vast amount of options available. You may have to consider frame shape and sizes as well as frame color and lens material.
Thankfully there are a few basic guidelines you can follow to help you find the best option for you. Keep reading to learn how yofu can make sure you buy the best glasses for your face!
It's All About Face Shape
If you want a trendy look for your glasses, you need to start by determining your face shape. From there, you'll want to pick glasses that complement and balance your facial features, drawing attention to and away from certain areas. 
Here are some examples.
Round Face
Round faces are equidistant, which means they are balanced in terms of length and width. Round faces do not have prominent cheekbones, giving them a softer look. 
To give more angles to your face, consider rectangular lenses. They will give your face more structure. Large, thick frames can also help draw attention to the eyes. 
Bold style choices are great for people with round faces!
Square Face
On the other hand, square faces are more angular and need a more subtle touch. With a wide jawline and broad forehead, you want your facial features to speak for themselves. 
Round or oval lenses will soften your features. For a more structured look, you could lean into the sharpness of your features with rectangular frames. 
Heart-Shaped Face
Heart-shaped faces are softer than square faces but have more striking features than round faces. Prominent cheekbones and a narrow chin are what give this face shape its name. 
Both round and rectangular frames can work for those with this face shape, and they will just work in different ways. Round frames soften the heart shape, while rectangular lenses balance it out.
Which style suits you best is up to you!
Pear-Shaped Face
Faces can also be shaped like pears. With a broad jaw and a narrow forehead, they can benefit from frames that balance out the top and bottom of the face.
Browline frames are a fantastic option for pear-shaped faces. Having thick frames on the top and thin on the bottom draws attention to where it is needed and away from where it is not. 
Oval Face
Oval faces are very naturally balanced. A curved jawline that is roughly as wide as the forehead gives this face shape versatility.
Oval faces have the privilege of being able to rock just about any frame. The structure of rectangular frames will add depth to the face, while round frames will allow the already proportional features to stand out.
You may want to avoid oversized frames. However, they can be distracting on an oval face. 
Rules Are Made to Be Broken
Remember that these are just rules of thumb. If you like a look that doesn't fit with your face shape, then be a trendsetter!
You can always get multiple pairs to achieve different looks for different occasions. 
Is it time for you to choose new glasses? Schedule an appointment at Frantz EyeCare in Fort Myers, FL, today to get started!