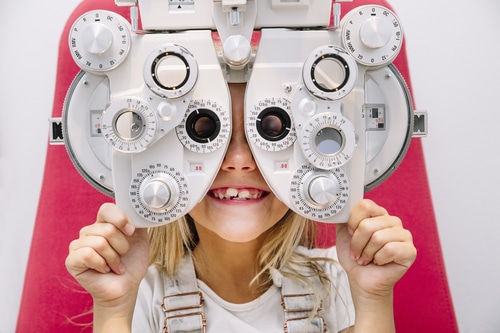 Eye exams are an essential part of keeping your vision healthy. They give you and your eye doctor an in-depth look at what your eyes need and what you are at risk for. 
Without regular checkups, you could be vulnerable to permanent vision damage due to eye conditions, even if you aren't experiencing any present vision symptoms. Keep reading to learn what happens during a comprehensive eye exam!
What Exactly Happens During a Comprehensive Eye Exam?
A comprehensive eye exam involves a lot of different tests and physical examinations. It can often take over an hour to complete, depending on what your eye doctor is looking for.
Here are some things you might expect to happen at a typical eye exam:
Visual Acuity Testing
This test gives your eye doctor a baseline understanding of your vision. For this test, you will simply look at letters projected on a wall and read the results.
The letters get smaller as you go down the page, making it more challenging. The farther down you get, the clearer your baseline vision is.
Medical History
You will answer questions about your medical history. It is very important for your eye doctor to know this information. 
They will need to know about the medications you are using, any health conditions you may have, and your family medical history.
Peripheral Vision
Losing the ability to see through the sides of your vision may indicate other problems like glaucoma.
Slit Lamp Examination
Your eye doctor will look at the front of your eye and inside with a special microscope called a slit lamp. Eye doctors can glean a lot of information by looking at your eyes. 
Damaged structures, signs of disease, or other early warning signs give clues for diagnoses. Even though your eye faces many dangers, you don't need to get an eye exam too often. 
The frequency of your visits will depend on a few things.   
Does My Age Affect How Often I Need An Eye Exam?
Age is the most significant factor determining how often you need an eye exam. You need them less often when you are a young adult. 
As long as your vision is good and your eyes are healthy, you might get by with one visit in your twenties. However, children and older adults need them more often. 
Children's eyes are still developing, while older patients' eyes are declining. Infants' eyes should be examined within a few months of being born. 
A normal child with healthy eyes should still have regular checkups every few years. You should get a checkup every year or two if you are older than sixty-five.  
Other risk factors can also come into play. Lifestyle habits like smoking and excessive drinking are notoriously bad for your health, including vision.
Health conditions like diabetes will make it necessary for more frequent exams. Be open with your eye doctor so they can make sure you are getting the care you need.
When it comes to your sight, an ounce of prevention is worth a pound of cure.
Is it time for you to have a routine eye exam? Schedule an appointment at Frantz Eye Care in Ft. Myers, FL, today!