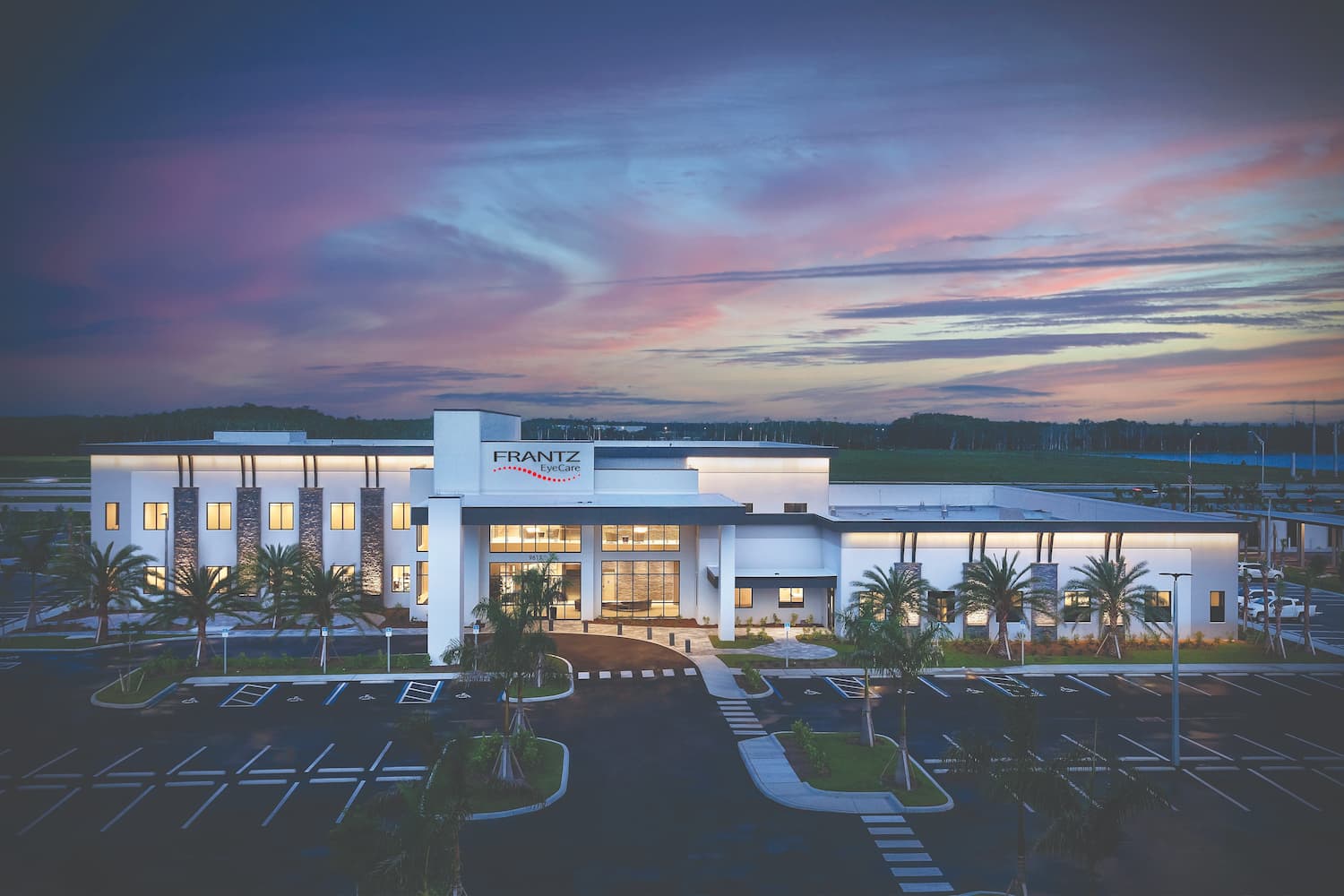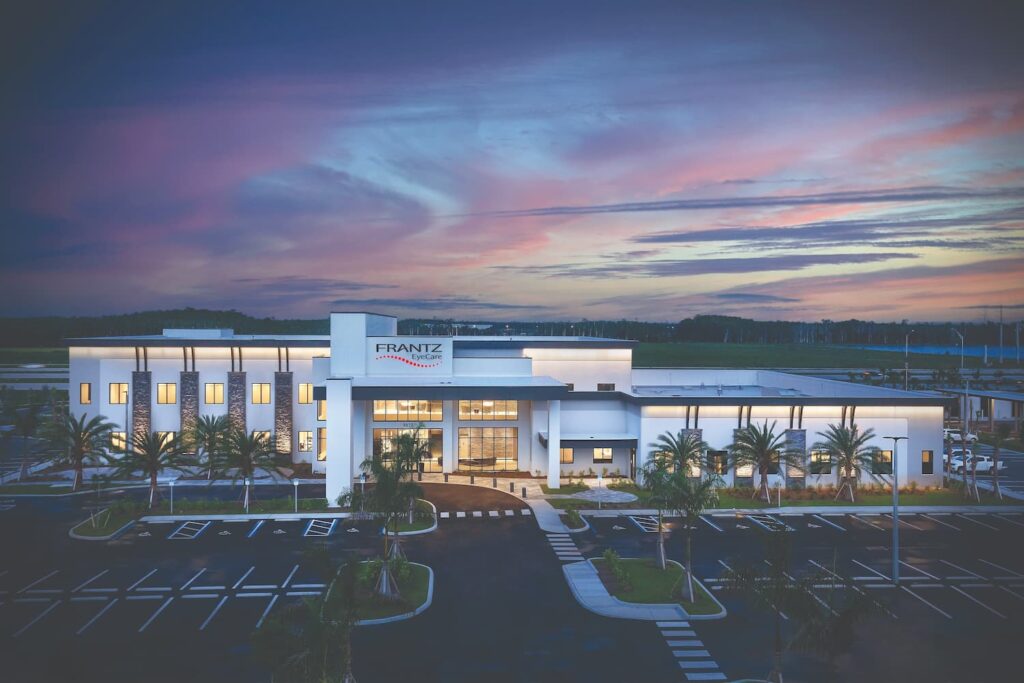 Over three decades ago, Dr. Jonathan Frantz planted his personal and professional roots firmly in Southwest Florida with a dream to revolutionize eye health services in the area. For more than 28 years, he has been the chief surgeon and medical director of Frantz EyeCare – a multi-specialty eye care practice with eight thriving locations and two surgery centers. The practice has grown from four employees in 1994 to nearly 200 employees in 2022, and, through positive teamwork principles, continues to make every effort to live up to their patient care slogan in the community: Better Vision – Better Life.
In late April of this year, construction was completed on a nearly 60,000-square-foot eye health clinic in Fort Myers. This new location is the corporate headquarters for Frantz EyeCare and Frantz Cosmetic Center and offers 44 exam lanes, a state-of-the-art diagnostic center, a laser vision correction suite, optical retail, an aesthetics and cosmetic treatment center as well as administrative offices. Frantz EyeCare's newly relocated Fort Myers Suncoast Surgery Center has expanded to include four operating rooms, four laser suites and family waiting and patient recovery areas which have been specifically designed to provide optimum comfort.
A true visionary like Dr. Jonathan Frantz understands that in order to achieve a challenging goal, consistent hard work and innovation are foundational elements. Strong leaders often look to the past for inspiration. When asked who inspired him, Dr. Frantz responded: "My uncle David Light was an ophthalmologist in Miami for many years. His practice was among the first to implant intraocular lenses. Amazingly, there was quite a bit of disagreement about intraocular lenses back in the 1960's. But my Uncle David and his partner, Dr. Norman Jaffe did much of the early work that led to the widespread acceptance of the intraocular lens technology we enjoy today. We all owe them and others of their time a tremendous debt of gratitude. We truly stand on their shoulders."
High standards for patient care
At the onset of his medical career, Dr. Frantz realized that cataract and laser vision correction surgery are life-changing events. Each time a patient expresses their joy in receiving restored vision, Dr. Frantz and his team are inspired and humbled by their happiness. Because vision is so critical to how the brain perceives information about the surrounding world, it is vital that standards of care in ophthalmology are held extremely high and never taken lightly.
In describing his vision for the ideal eye practice, Dr. Frantz remarked: "The people who work for me know that I set extraordinarily high standards for myself and my practice. From the beginning, I felt that it was important to have a practice that reflected my attention to excellence, hard work, kind and compassionate patient care, teamwork and having the most advanced technology available. I knew we could create one of the best eye care practices in the country if we remained committed to a culture not only comprised of caring, hard workers, but a group of teachable team members willing to learn how to improve our patient outcomes and level of care."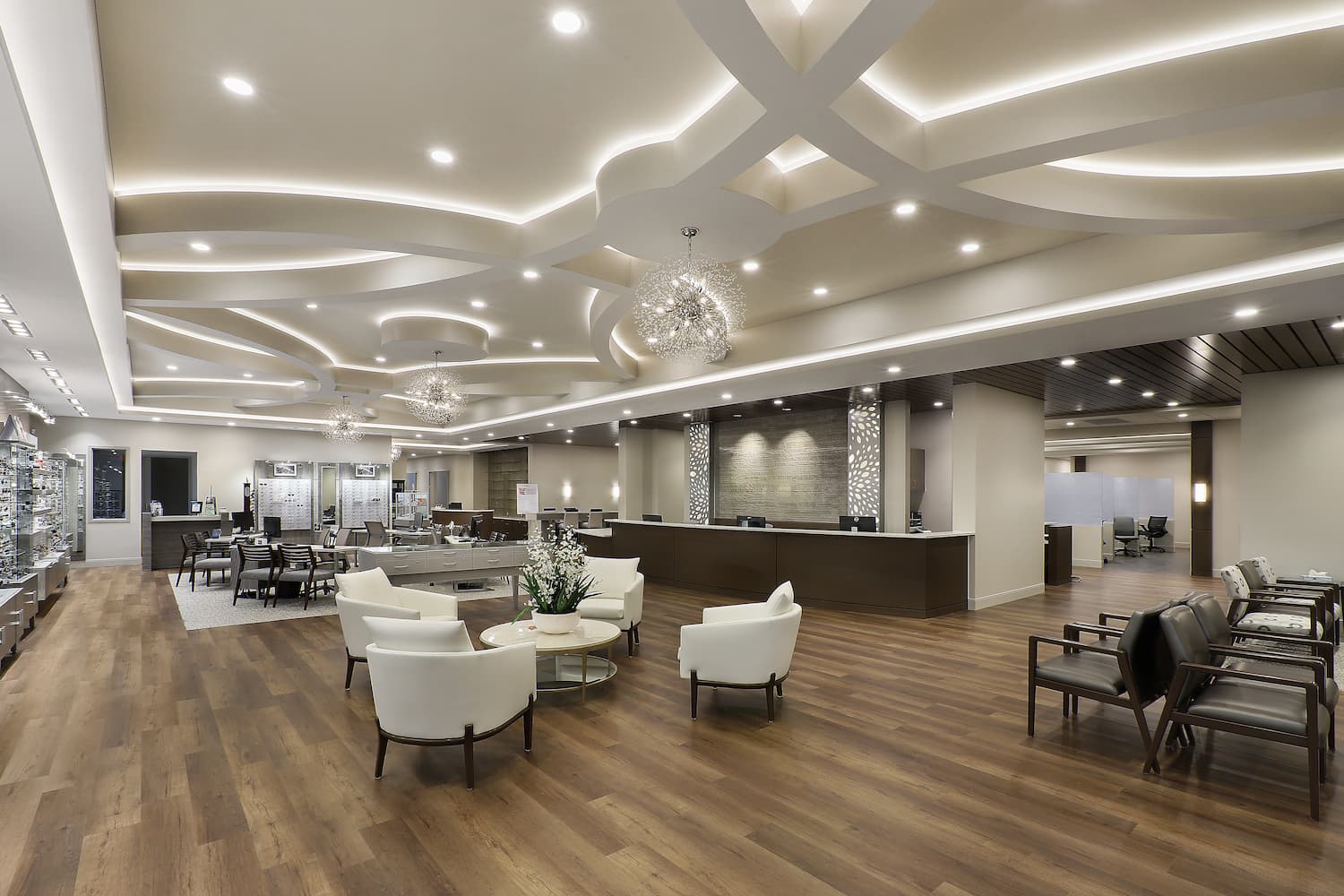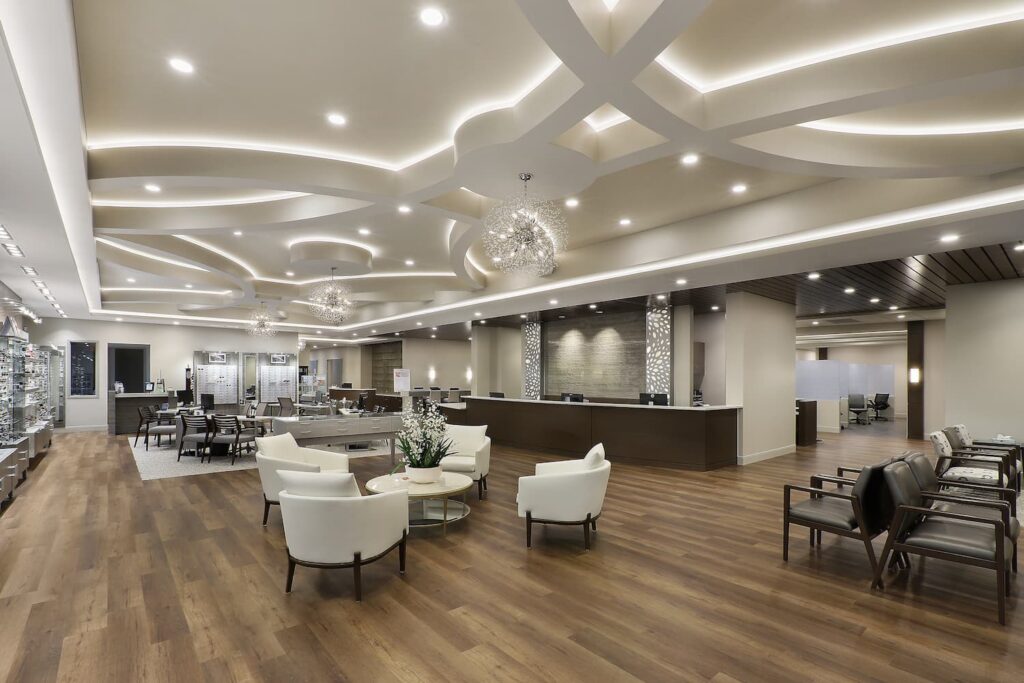 An elite team of specialists
The Aesop adage "we are known by the company that we keep" is one of the reasons why Dr. Jonathan Frantz has hand-picked such an elite group of fellowship trained eye physicians to work with. Concerning his group of specialists, Dr. Frantz states, "I am so proud of the praise our patients give us every day about our friendly and caring staff who go way above the call of duty to serve their fellow man. Their dedication is inspiring.
The benefits of a multi-specialty practice are numerous, and while Frantz EyeCare is widely known in Southwest Florida for cataract and laser vision correction surgery, the Frantz team of surgeons also provide diagnostic testing and treatment for eye diseases of the cornea, retina/vitreous macular degeneration and diabetic eye care, glaucoma, oculofacial and cosmetic surgery, dry eye and comprehensive care. Frantz EyeCare and Frantz Cosmetic Center have developed partnerships with area physicians in Southwest Florida to provide comanaged surgical patient care. In addition, the Frantz administrative team takes internal measures to make eye care more efficient and cost-effective, ultimately improving the overall patient experience.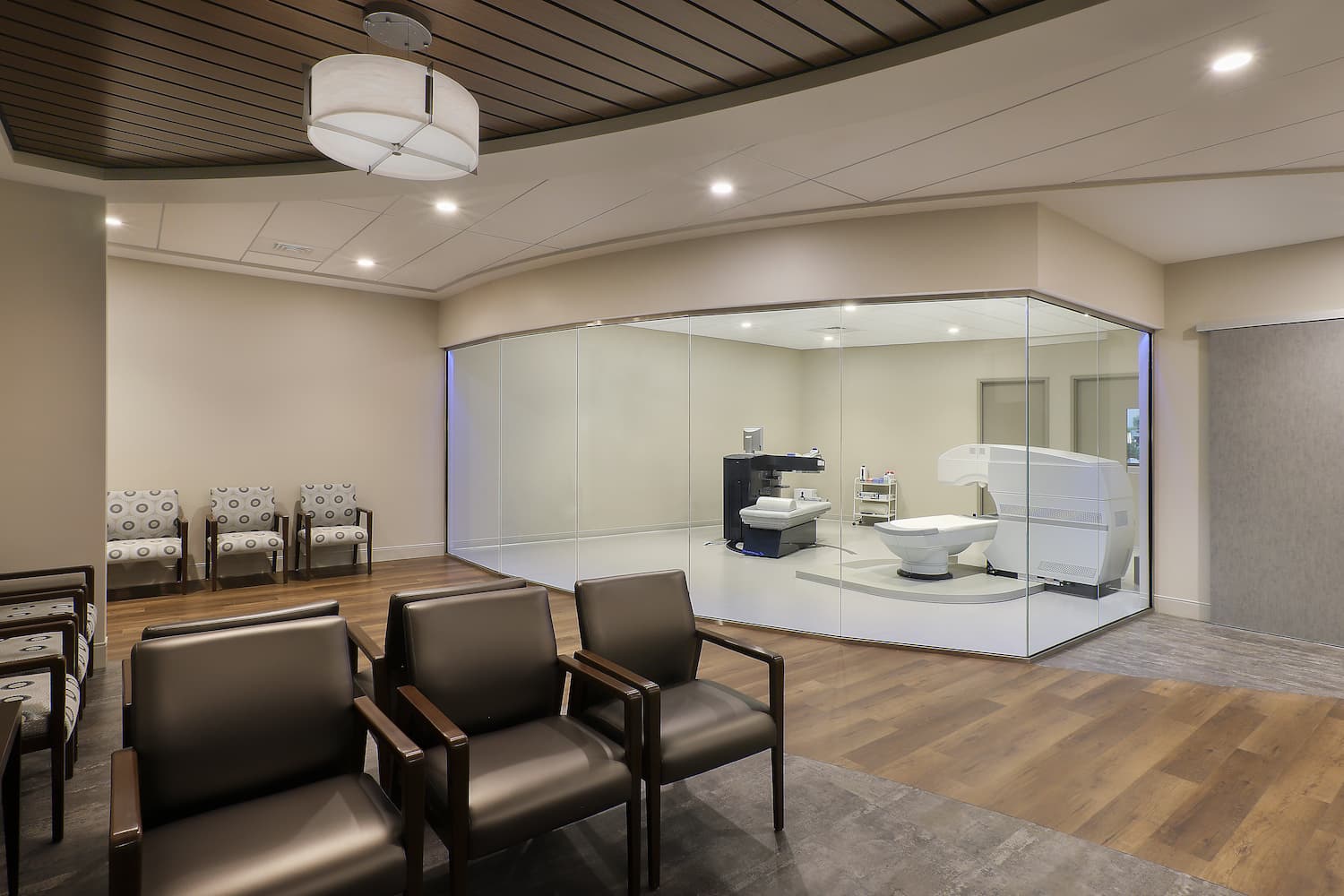 A future of optimism
When it comes to his vision for the future of Frantz EyeCare and Frantz Cosmetic Center, Dr. Frantz takes a no-nonsense approach to growth. "I have a strongly held belief that physician-owned-and-led practices are more attuned to the needs of patients," he said, "we have a personal knowledge of what our patients need and how they feel when navigating the healthcare process. We now serve three counties and a population of close to 1.5 million people. Our plan is to continue to add elite physicians in all eye care specialties while continuing to treat our patients and staff like beloved members of our own family. Our goal is not to have the most locations or be the biggest practice (since we aren't a fast-food purveyor), but rather, to have the best eye care practice in the Country."
The team at Frantz EyeCare and Frantz Cosmetic Center have a profound respect for meritocracy, which simply stated, means that one must earn everything. No patient should ever be taken for granted, and patient loyalty is earned only by positive engagements and outcomes. From the first individual interaction with a patient care coordinator to the final checkout experience, the Frantz EyeCare team believes that patients should be treated with the compassion and respect that they deserve.
Better Vision – Better Life is more easily attainable when eye health professionals listen well and diagnose appropriate solutions with the goal of healing the community of patients that they serve. Led by Dr. Jonathan Frantz, this ambition will continue to set Frantz EyeCare apart as one of the elite eye care practices in the country!