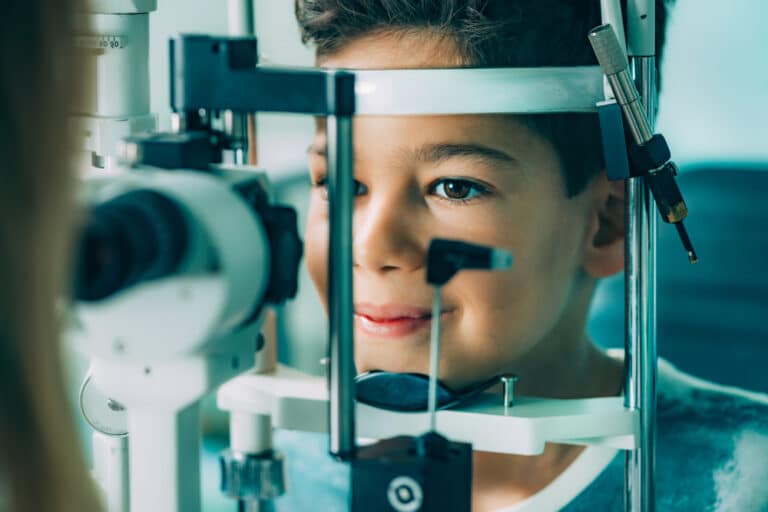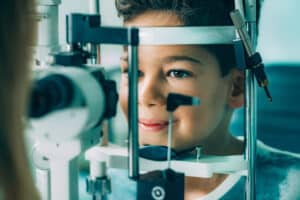 Whether our children in Lee County are going back to school for face to face instruction or virtual learning, they will be guaranteed to be using their eyes continuously throughout the day. It is important for children to get a baseline eye exam prior to or soon after starting school. In addition to evaluating the complete health of the eye, the eye examination can test for reduced vision in one or both eyes. It is important for Optometrists and Ophthalmologists to detect any concerns early on so that treatment can be given if necessary.
Both eyes must receive clear images during the critical period (birth to 7 years of age). Anything that interferes with this can result in Amblyopia, or more commonly referred to as lazy eye. This condition occurs when nerve pathways between the brain and an eye are not properly stimulated. When this happens, the brain favors the other eye. Sometimes this is due to a muscle imbalance (Strabismic Amblyopia) which can cause the eyes to cross in or out so that the eyes are not working together properly. Another cause is the difference in sharpness of vision between the eyes (Refractive Amblyopia). This is most often due to a child being farsighted, however, symptoms of nearsightedness or having large amounts of astigmatism might also be present. Furthermore, anything that can block the child's vision such as a congenital cataract or similar, can "deprive" (Deprivation Amblyopia) their eyes of a visual experience. This form of Amblyopia can cause the poorest vision and urgent treatment to prevent permanent vision loss is often necessary.
Most early diagnoses and treatment can help prevent long-term problems with your child's vision. The eye with the reduced vision can usually be corrected with glasses, contact lenses, or patching therapy. With today's growing reliance on visual aides and computer screens, your child's success relies heavily on their eyesight. A check up and any needed follow up is an important part of their school preparations.
Kimberly Feder, OD
Optometrist at Frantz EyeCare