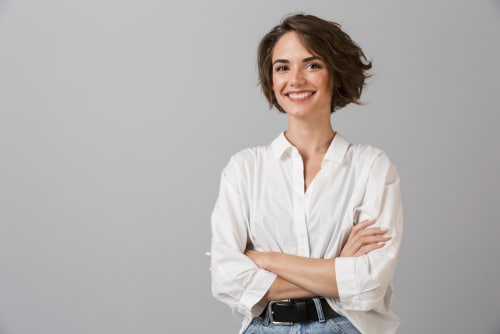 SMILE is an excellent option for permanent vision correction. This procedure can allow you to reduce your dependence on glasses or contacts.
While LASIK takes the spotlight for most name recognition when it comes to permanent vision correction, SMILE is another option with many benefits. Keep reading to learn three reasons why SMILE is more than worth it!
1. It's a Less Invasive Solution
SMILE is not only the name of the procedure, it is what you will do once you experience its results. SMILE, or small incision lenticule extraction, is a method used to correct vision in people with nearsightedness or astigmatism. 
During the LASIK procedure, your eye surgeon uses two separate lasers. For the SMILE procedure, your eye surgeon only uses one laser.
During the SMILE procedure, your eye surgeon uses the femtosecond laser to alter the shape of your cornea. By reshaping the cornea, the light that is entering your eye is able to focus on the retina.
When the light is able to focus directly on the retina, your brain can form a clear image. The incision made by your eye surgeon during SMILE is much smaller than what is needed during LASIK.
Your eye undergoes less trauma during the SMILE procedure compared to LASIK. SMILE also offers a shorter recovery time and a lower risk of complications.
2. Get Excellent Vision Results  
Before you are able to schedule your SMILE procedure, you will need to see your eye surgeon for an evaluation. At this evaluation, your eye doctor will determine whether or not you will be a good candidate for the procedure.
The process of qualifying for candidacy ensures that those who undergo the SMILE procedure have optimal vision outcomes. The SMILE procedure has a very high satisfaction rate, meaning most people who have had the procedure are pleased with the results.
The SMILE procedure can only correct vision in people who are nearsighted. If you are farsighted, your eye doctor may recommend a different permanent vision correction procedure.
When you have SMILE with the eye doctors at Frantz Eye Care, you can rest assured that you will be in good hands. After SMILE, you will be able to experience a better quality of life with improved vision. 
3. The Benefits of Reduced Dependency on Glasses
There are many benefits to choosing the SMILE procedure. However, one of the most significant benefits is providing you with increased freedom from glasses.
Many people don't realize how restricting glasses are until they don't have to wear them. Glasses can prevent you from doing something you enjoy out of fear of damaging them.
Sports are also more challenging to participate in when you wear glasses. Your glasses may become more of a loose fit and not want to stay properly on your face.
Or, they can quickly become foggy, becoming an uncomfortable distraction. SMILE allows you not to worry about visual aids and can let you be more confident and adventurous. 
Are you ready to see if SMILE is a good option for improving your vision and quality of life? Schedule a consultation at Frantz EyeCare in Fort Myers, FL, today!