Sometimes it is easy to take for granted the day-to-day access we have to some of the best medical care options in the world. But even with such high-quality care available, patients find that the complexity of medical and insurance environments are often overwhelming. Because of the multi-step financial and approval process, sometimes the patient – particularly their needs, goals, expectations and anxieties – seems to take a backseat to bureaucracy.
In the early years of his practice, Dr. Jonathan Frantz determined that making patient care more personal and less corporate was going to be imperative to Frantz EyeCare's success. Dr. Frantz and his expert team of specialists believe that the formula for success includes a patient-centric focus with kindness and a custom-tailored approach. After all, the way a practice makes a patient feel will often guide that patient's level of confidence in their care.
For example, the Frantz team does not believe in auto-attendants with a phone tree of options that hopefully get a patient to the correct department. After the initial greeting, patient calls are answered by a group of talented individuals who understand the importance of providing prompt and accurate information. In the words of Dr. Jonathan Frantz: "We pay attention to you, because you are our honored guest. We answer to you, not the insurance company. We judge our success based not upon dollars and cents but on the success stories, the smiles we get, and the numerous 5-star reviews we receive. We are not run by a large, publicly-traded conglomerate or corporate private equity. We are the largest physician-owned, physician-operated practice in Southwest Florida. We have implemented a Patients First strategy for 29 years, and we will continue to treat each one of our patients like family."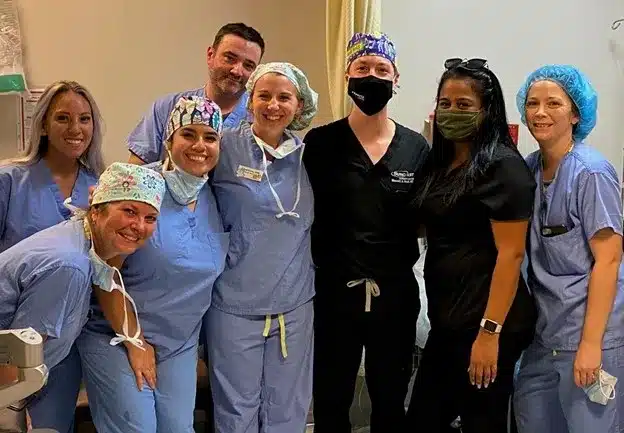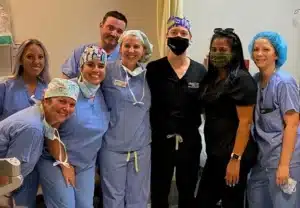 When asked what the most rewarding aspect is of being a cataract surgeon, Dr. Frantz put it simply: "Giving the gift of sight is an extraordinary blessing." Through the compassionate, state-of-the-art cataract surgery practiced at Frantz EyeCare, the lives of patients in Southwest Florida are changed for the better – forever. To be able to wake up and see clearly in the morning, but to also see street signs without challenge, to watch television, follow the golf ball, reduce night glare, etc., these benefits are the reward of successful patient outcomes after cataract surgery with Frantz EyeCare.
Thanks to advanced technologies in modern medicine, cataract surgery can truly be a miracle for patients. To provide that exceptional experience, the Frantz team is focused on giving patients a variety of lens enhancement options that can significantly improve their vision at several focal points after cataract surgery.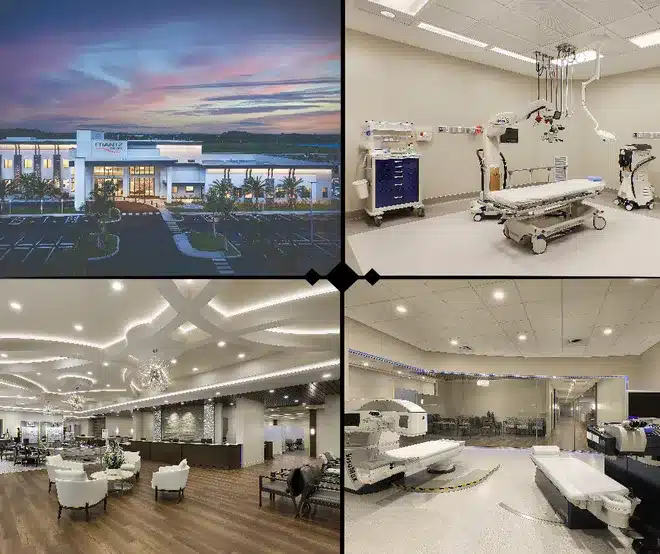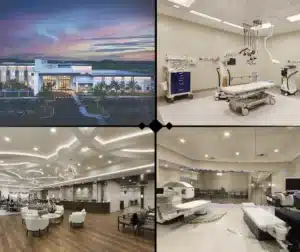 Frantz EyeCare is a Southwest Florida success story because of many factors. First and foremost is the heart of their amazing staff. You can teach many life skills, but you can't teach compassion, a caring spirit, and a team who love one another. That is why the main criteria used in selecting the clinical team is attitude. Even the most challenging days can be conquered with an optimistic attitude, and this spirit characterizes the Frantz EyeCare team.
The staff of physicians at Frantz EyeCare are hand-selected by Dr. Frantz personally. They are elite surgeons and clinicians highly trained in the treatment of cataracts, glaucoma, retinal disease, laser vision correction, oculoplastics and dry eye, as well as comprehensive eye exams including eyeglasses and specialty contact lens fittings. Collectively, the Frantz surgeons have performed hundreds of thousands of eye surgeries of various types. Their experience is second to none.
Most people feel that their vision is their most precious sense. With this in mind, Frantz EyeCare never takes the trust of their patients for granted. Dr. Frantz requires the highest standard of excellence from his team members in all facets of his practice and treating each patient with VIP care is of paramount importance. Substandard patient experiences will never be an option for Dr. Frantz and his team!
The "vision" for the future at Frantz EyeCare is to continue to evaluate and embrace the latest surgical techniques and modern technologies to improve vision outcomes and provide a better quality of life for patients in Southwest Florida. Dr. Jonathan Frantz will continue to add elite providers to his team to better serve the patients who visit their multiple locations every day.
The premier advantage of a physician-owned, physician-led practice is clear: High quality, compassionate patient care will always come first. Physicians – not investors – make the call on the best possible patient care. This is the Frantz EyeCare way!