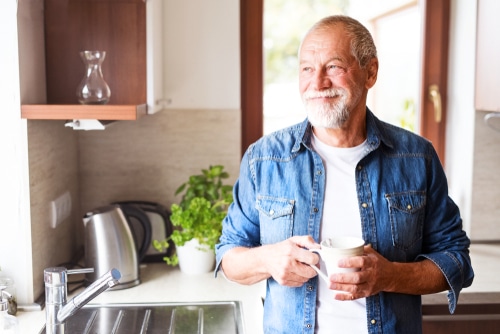 An intraocular lens, or IOL, replaces the natural lens in your eye, which is where the cataract is, during cataract surgery. Choosing the right IOL can make a massive impact on your quality of life after cataract surgery.
Without an IOL or your natural lens, you wouldn't be able to see. There are many IOL choices, and the best one for you will depend on a variety of factors, including your budget and vision goals. 
Keep reading to learn which IOL may be best for you!
What Are My IOL Options?
Before deciding which IOL is best for your lifestyle, it's best to know all of your options. There are two primary categories of IOLs: standard and premium. 
In those categories are specific IOL brands and types that can offer different benefits.Your standard IOL option is a monofocal IOL. 
This type of IOL can restore your vision to crisp and clear but limits the kind of lifestyle you can have. Monofocal IOLs allow you to focus your vision up close or at a distance, but they cannot switch between focal lengths. 
In practice, this means you will need to begin or continue to use glasses to assist your vision when doing certain tasks. While this method works and can be more cost-effective, many people do not like how inconvenient glasses are.
Premium IOLs, on the other hand, can give you crystal clear vision at a variety of distances. Even if you have had a refractive error your whole life, premium IOLs may be able to help decrease your need for glasses. 
Toric IOLs can be very effective for patients with astigmatism. Frantz EyeCare in Fort Myers, FL, has a wide selection of premium IOLs for you to choose from, including:
The PanOptix Trifocal IOL

The Vivity Extended Depth of Focus IOL

The Crystalens IOL

The RxSight Light Adjustable Lens
All of these premium IOL options can have fantastic outcomes. To learn more about them in detail, schedule a cataract screening at Frantz EyeCare.
What Do You Want From Your Cataract Surgery?
Once you have informed yourself about your IOL options, you should consider what you want. If you are looking for the cheapest option and don't mind living with glasses for the rest of your life, monofocal IOLs are a fine choice.
If you want to live a more active lifestyle, a premium IOL can help you achieve that goal. Premium IOLs make almost every activity, chore, and hobby easier to enjoy by giving you more independence from visual aids. 
If the quality of your sight is important to you, investing in premium IOLs is a good idea. Most people that receive a premium IOL experience enhanced visual acuity with results that are permanent. 
Since IOLs are made from a durable synthetic material, cataracts will not form in them again. The Light Adjustable Lens, or LAL, is a new type of lens that can allow you to customize your vision outcome after cataract surgery.
Using a specialized light-reactive material and UV light, your eye doctor can adjust the lenses from outside your eyes. With the LAL, you will be able to test drive and trial your vision.
Cataract surgery is a journey, but not one you have to make alone. Join Frantz EyeCare and find out how safe and effective cataract surgery can be. 
Do you want to learn more about your IOL options or receive recommendations for which may be best for you? Schedule a cataract evaluation at Frantz EyeCare in Fort Meyers, FL, today!