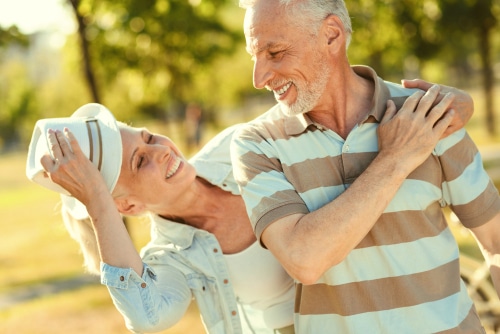 Dealing with cataracts and surgery is difficult, but what if your cataracts grow back? Well, not exactly.
It is impossible for cataracts to "grow back". Cataracts grow inside of the lens of the eye. During cataract surgery, the lens is completely removed. Keep reading to learn more about cataracts and cataract surgery!
Cataract Surgery
Removing cataracts involves replacing the lens with an artificial lens called an IOL. First, the surgeon creates a flap in the cornea.
Then, the natural lens is broken apart using high-frequency sound waves. The pieces of the lens are then taken out of the eye, leaving room for IOL placement. This should be exactly where the lens used to sit.
What IOL the surgeon implants is something you select before cataract surgery. Standard IOLs mean the wearer must continue wearing glasses after surgery.
The standard IOL only provides clear eyesight for a single, fixed distance. Premium IOLs can provide vision at all distances, often without the need for glasses at all.
Certain premium IOLs can even correct astigmatism! You can discuss your IOL options during a cataract screening at Frantz Eye Care in Fort Myers, FL.
Secondary Cataracts
Since your lens is replaced with an IOL (which is not made out of organic tissue), cataracts will not grow back. A sizeable percentage of cataract surgery patients may experience a "secondary" cataract.
This is not really a cataract per se, but it happens when the membrane that holds the IOL in place begins to opacify. A secondary cataract is posterior capsular opacification.
This blocks light from entering the eye in a similar fashion as a cataract. It is not an actual cataract, as the lens is no longer in the eye. Though it is like a cataract, the treatment for it is quite different.
Treating Secondary Cataracts With A Yag Capsulotomy
To treat a secondary cataract, patients need a procedure called a YAG capsulotomy. This surgery is even more simple than cataract surgery and is just as safe.
It is a painless procedure that takes only about 5 minutes to perform. The doctor does not need to remove anything from your eye or make any intrusive incisions.
The procedure involves making a small hole in the clouded membrane. This should be just big enough for light to pass through uninhibited.
There are very few risks involved with a YAG capsulotomy. If you notice your vision worsening again shortly after cataract surgery, don't worry!
If the issue is a secondary cataract, it will be very easy to deal with. There is no way to predict if you will develop posterior capsular opacification or how long it will take to progress if you do. It could take months or even years for it to become an issue.
Yag capsulotomy is a non-invasive procedure that takes little time to recover from. For the first few days, your vision may be less stable or blurry. This usually goes away on its own. If you are in any pain or your vision gets worse, let your doctor know. This could be a sign of a complication or infection.
Have concerns about secondary cataracts after cataract surgery? We can help! Schedule an appointment at Frantz EyeCare in Fort Myers, FL now!